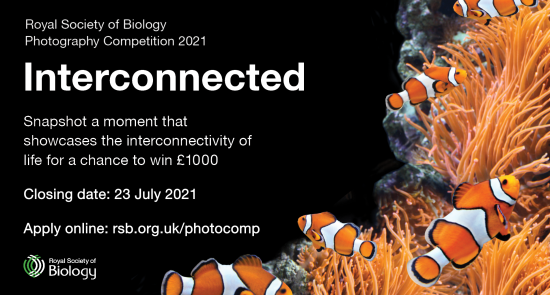 The Royal Society of Biology annual photography competition invites amateurs to submit photographs on a particular theme.
Photography Competition 2021
Competition theme
'Interconnected' is the theme of this year's Royal Society of Biology Photography Competition.
Life on Earth is connected and this year we invite you to capture these interactions.
Your photograph could depict the relationships between living things or of a living thing with its environment. You could also consider the exchanges between different species, such as mutualistic or parasitic behaviours.
You may want to focus on the impact humans have specifically had on other organisms and the world around them, whether that is at home or at work, in urban or rural areas.
We also welcome entries that explore this year's theme at the molecular or cellular level, illustrating what is only revealed to us with the aid of a microscope.
Your entry can show the impacts of biological processes and phenomena in a range of settings, or portray the chains of consequences and how knowledge about biology can illuminate a story.
The competition will close for entries at 23:59 BST on 23rd July 2021. Winning entries will be announced on the RSB website in October 2021.
Prizes
There are two categories in the competition, each with a cash prize:
Photographer of the Year (18 and over) - £1,000 top prize
Young Photographer of the Year (under 18) - £500 top prize
You might wish to explore the locomotion and migration of animals or the growth and colonisation of plants and fungi. Your photograph could depict the act of flying, hunting, playing and swimming, or the bones, muscles and other biological structures that help perform these actions. Also welcome entries that explore this theme at the cellular or molecular level, illustrating the dynamic world only revealed to us with a microscope.
Who can participate?
The competition is free to enter and is open to Society members and non-members. Entrants must not
be professional photographers. For the purposes of this competition, a professional photographer will
be considered to be someone who makes more than half their annual income from photography-related work.
Entrants to the Young Photographer of the Year category must be under 18 years of age at the time of
the closing date (23rd July 2021).
Each entrant can submit up to three photographs for the competition.
.