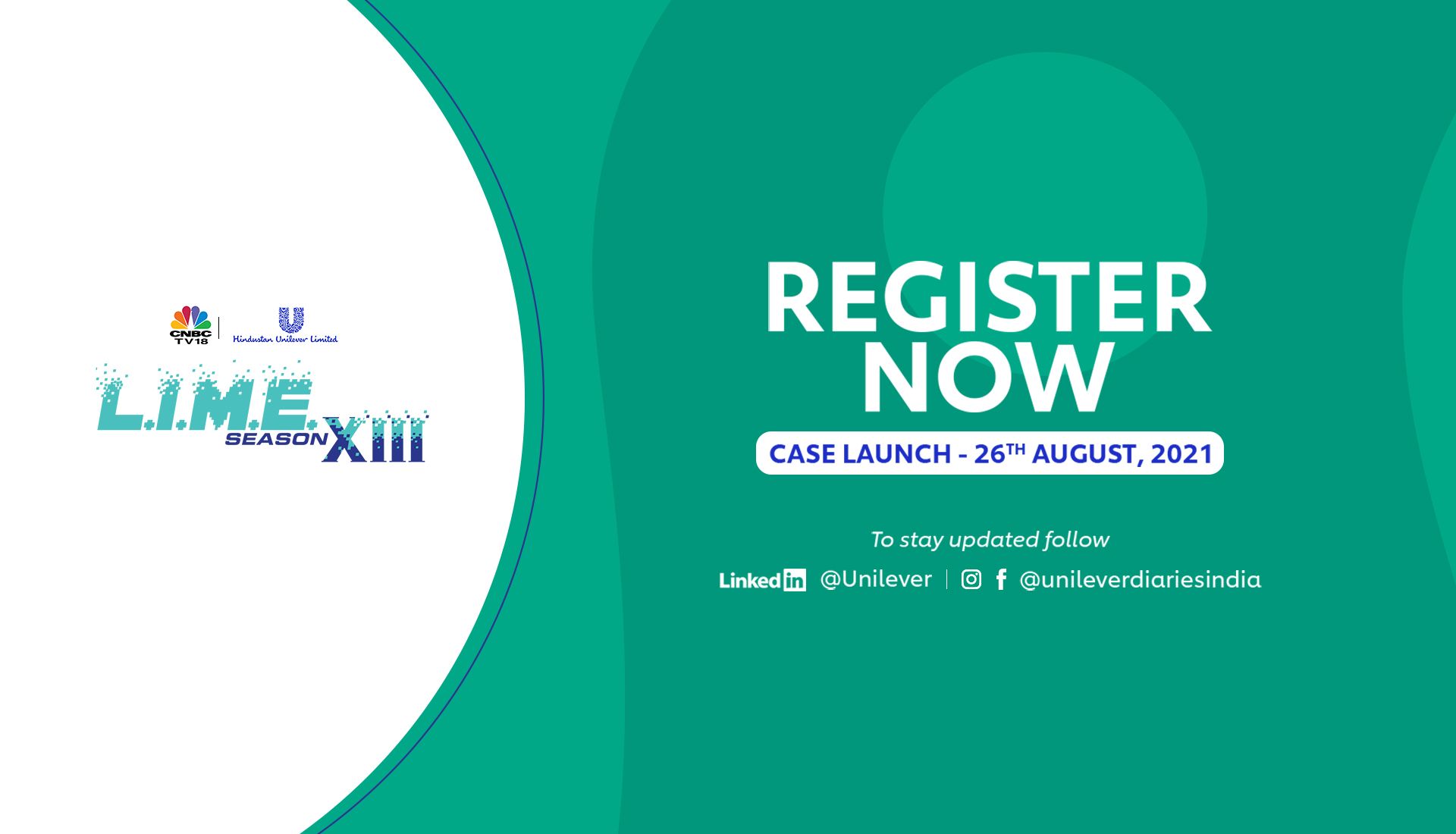 HUL has launched their annual business challenge - HUL L.I.M.E. Season XIII for 1st year MBA Students. Participants hold a chance to bag pre-placement interviews with India's leading FMCG company, and rewards worth up to INR 16 Lakhs. We believe it is a relevant opportunity for your audience.
HUL & CNBC-TV18 present L.I.M.E. XIII - an inter B-school marketing and business challenge to give students an opportunity to stretch their imagination and write the future!
Eligibility Criteria:
This competition is open to 1st year students pursuing any full-time MBA programme across all B-Schools in India.
Also, 1st year students pursuing any full-time MBA programme from the following Ivy League institutes are eligible to participate:
Yale School of Management
London Business School
Harvard University
London School of Economics
The University of Chicago Booth School of Business
Wharton Business School
Insead
Kellogg School of Management
Competition Structure:
Virtual Launch Event and Case Study Reveal:
HUL will host the launch event for L.I.M.E. Season XIII virtually and release the case study on August 26, 2021.
Post the case launch, HUL will conduct two Q&A sessions in the first week of September where teams can get their queries resolved.
Following the above, each team is to perform their research, analysis, and come up with a one-slider (case submission format will be enclosed with the case study) by 6th September 2021.
HUL L.I.M.E. Season 13 includes three major stages:
Stage 1 - You would be choosing one or more consumer trends that can drive business growth. Next, you would start conceptualizing a marketing campaign. You would identify the Target Audience and the problem you are solving for them, the Communication Challenge, Consumer Insight, and the Campaign Idea.
Stage 2 - You would be deep-diving into the campaign and submitting the final creatives, the media plan, and budget estimation for one year.
Stage 3 - You would be presenting a cohesive solution as a business proposal to the management.
Each round will be an elimination round and the details of stages 2 and 3 will be shared subsequently.
Registration Deadline
Attractive prizes to be won along with PPIs.
Prizes
Grand Finale Winner
10,00,000
The Winning team would also win a ticket to the global Unilever case study competition - Unilever Future Leaders' League to be organized in 2022.
Certificate
1st Runners Up
3,00,000
Certificate
Prizes
2nd Runners Up
2,00,000
Certificate
3rd Runners Up
1,00,000
Certificate
Prizes
Semi Finalists
All semi-finalists will be shortlisted for a PPI as a part of the summer internship process (ULIP 2022).
Participation Certificate