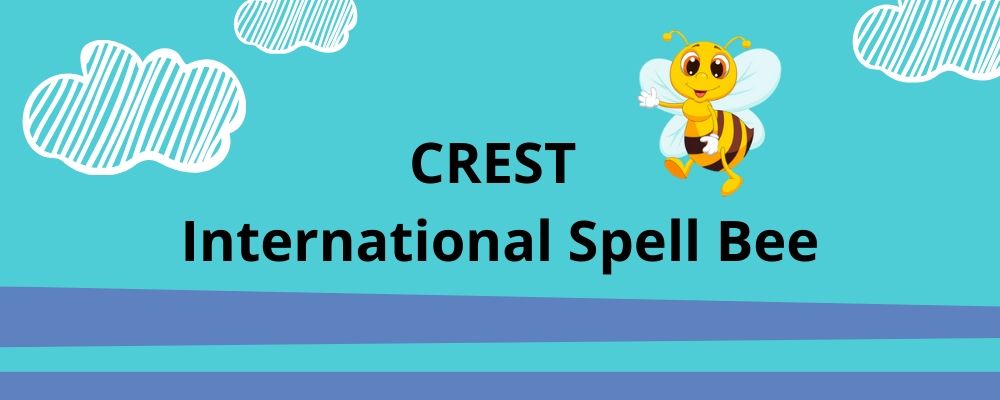 CREST International Spell Bee (Summer 2022) is India's first Online Spelling Assessment for classes 1-8 which assesses students on the basis of Meaning, Spelling and Pronunciation of the words in English language (British English). Hence, it will help students to foster their lexical development which forms the basis of English language.
Other important points to note about CREST International Spell Bee (Summer 2022) are:
The assessments have been carefully designed by a team of English language experts.
India's first online proctored Spell Bee exam (Summer 2022).
Online Rapid Fire round.
Two levels of exam.
Objective-type test that the students need to complete in 60 minutes.
The dictionary which will be used for reference is Oxford Learner's Dictionary. This will be w.r.t. spellings & meanings. In case, if the word is not found in this dictionary, then it is assumed that this word does not exist.
The exam consists of two sections:
Section-1: Spell Bee (55 minutes)
Section-2: Rapid Fire (5 minutes)
---
Guidelines
There are separate question papers for each and every class.
The exam is conducted online only using laptop, desktop or tablet with a high speed Internet connection and webcam. Also, headsets are required because the test will have a few audio-based questions. Please note that the test can't be taken using a mobile device.
For students of class 1, the parent/teacher can assist the child in guiding through the questions.
In case the registration is not through a school, the student will have to take the exam from home.
How to Participate
Registration of Students through schools: Students from classes 1-8 are eligible to give CREST International Spell Bee. Prospectus containing the registration forms are sent to all schools registered with CREST Olympiads for Spell Bee exam. If your school is not registered with us, then please send an email to info@crestolympiads.com and we will send you the prospectus soon. It is mandatory for schools to return the registration forms to CREST Olympiads, duly filled in and complete in all respects by the due date.
Registration for individual participants: If your school does not conduct Spell Bee, then you can register as an individual participant as well.
Exam Fee
Exam fee for each subject is Rs. 225 for students studying and enrolling from India. For students studying and residing outside of India, the fee is $10 (US Dollars).
Exam Dates
The exams dates for CREST International Spell Bee - Summer (CSB) for the Academic Year 2022-23 are as given below:
| Exam Level | Exam Date | Answer Key Dates |
| --- | --- | --- |
| Practice 2 | 14th Jun 2022 | 16th Jun 2022 till 17th Jun 2022 |
| Level 1 | 1st Jul 2022, 19th Jul 2022 | 21st Jul 2022 till 22nd Jul 2022 |
| Level 2 | 17th Aug 2022 | 19th Aug 2022 till 20th Aug 2022 |