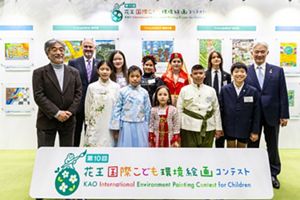 The Eleventh Kao International Painting Contest for Children is now open for entries. Kao conducts the Kao International Painting Contest every year since its launch in 2010 as part of its environmental initiatives. Kao invites children to create works that express the small steps they can take every day, their dreams, and hopes for an eco-friendly world.
This contest aims to encourage children around the world to think seriously about conservation of the environment around them and of the earth, as well as about the earth's future, and express their thoughts in paintings, which will also hopefully encourage people around the world to take action in their daily life to preserve the environment.
Theme
: "Together, we are eco-friendly"
Please think about what we can do to protect our precious global environment and pass it on to future generations, and express your thoughts freely in your entry
Eligibility
:
Children around the world between the ages of 6 and 15 years old * As of the end of August 2020
Please send pictures to:
Kao International Environment Painting Contest for Children Office
8-3-29 Tajima, Sakura-ku, Saitama 338-0837 JAPAN
Entry deadline:
Paintings must be received by midnight Friday, September 4, 2020 Japan Standard Time (JST)
Results announcement and the awards ceremony:
By late November 2020 the winners and their schools (or art classes) will be notified of the results. The results will also be posted on the Kao website. On Friday, December 4,2020, the prizes will be awarded in a ceremony in Tokyo.
* The winners of the "eco together"- Planet Earth Grand Prix and the "eco together"- Kao Prize (including winners from abroad) and one accompanying guardian will be invited to attend the awards ceremony.